Payment
We accept: Cash, Dollar Coins, Credit Cards, & College Park Car Wash Tokens. Purchase Tokens with cash or credit. All College Park Car Wash machines accept our tokens.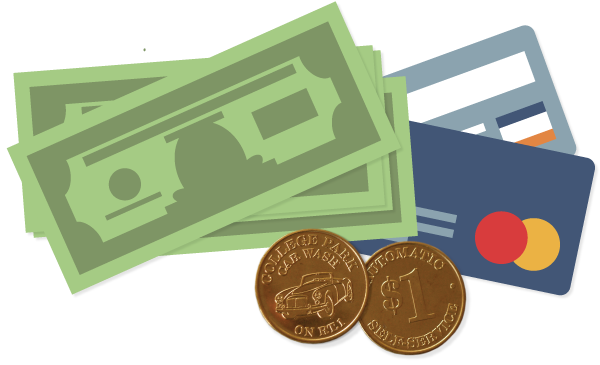 You Wash It Best
College Park

Beltsville
Our Self-Serve Power Wand Bays each offer 5 soap solutions, a wheel and foaming brush, carnauba wax, and spot-free rinse. Each delivered at an optimized pressure to efficiently and effectively clean your car!
Try our Air Shammee and dry right in the bay.
Follow the order on the panel for the best wash.
Use College Park Car Wash Tokens and Dollar Coins, or Credit Card.
How much does a wash cost? Just $1 to start washing. A typical wash takes 8 to 12 minutes. It's DIY. It's up to you!
Wash at Night…

…or During the Day.
Hands Free
Wash touch free in our Automatic Touchless Drive-Thru outfitted with the latest PDQ Laserwash 360 Plus designed to give you the best wash. Select from 4 wash packages ($10-16). It's automatic, it's quick, and it's very easy.
Drive in s-l-o-w-l-y until the red X is solid.
Accepts College Park Car Wash Tokens, Dollar Coins, and Credit Cards.
Inside too
Vacuum stations are conveniently located before each self-serve bay and around the perimeter to completely clean your car!
College Park

Beltsville
*Shampoo and Fragrance machines available only in College Park.
As a courtesy, when we are busy, please move to the open curb when finished with vacuum.
It's in the Details
We carry a complete line of professional detailing products, Little Tree Air Fresheners, and other fine products.
College Park

Beltsville (Sunnyside Ave.)

Beltsville (Rhode Island Ave.)
As a courtesy to others, please detail along the open curb and leave the vacuums available for those that need them.